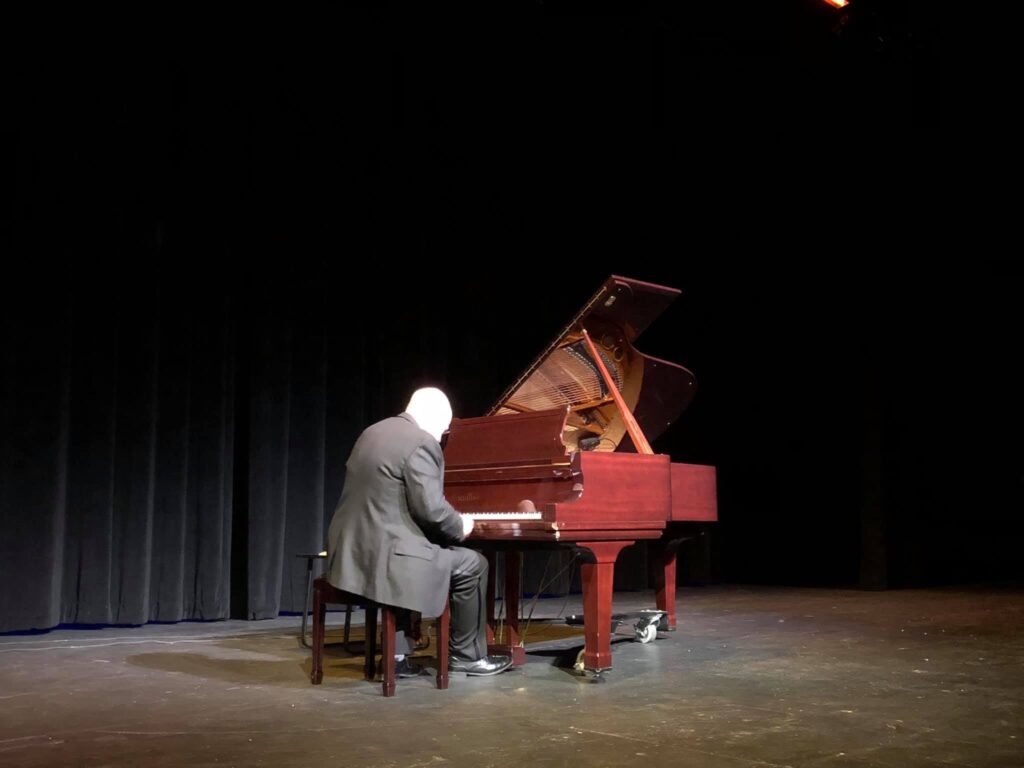 My Story
When I was a teenager I wanted to be a concert pianist, and when that was sidelined I went to seminary to become a preacher. Today I have taken on various roles –parent, husband, advisor. But on this website and at my performances, it's a throwback to the past: I am a pianist and a preacher.
At seminary you learn in public speaking classes to tell an illustration to add some color and augment understanding of the main topic. Each song I play, and many that I listen to, have a meaning that springs out naturally to me. So I share a Message about the Music, and then when I play the Music it provides an illustration for the Message. Music and Message.
In 2019 my relationship with piano is in perfect symmetry. Exactly half my life I have been able to play the piano, and half my life I couldn't play piano. After a promising start, my hopes for continuing my training on piano were ended at age 16 when I developed a condition that is now called Focal Dystonia. During the next 22 years that followed I eventually found relief and return of most function in my hands with discovery of a treatment called Myotherapy. But whenever I tried to play the piano the same shooting pain from hand to shoulder returned, so I put playing the piano, in my mind, aside forever.
Then I discovered a new innovative therapy that addresses the whole person: physical, emotional, psychological and spiritual. Splankna enabled me, over time, to re-engage with piano. Over the past 22 years I've rebuilt the skill set I learned through the private tutelage of my great piano teacher in my youth. My practice times need to be somewhat limited to prevent injury, and I receive regular massage therapy (deep tissue), but with these I am able to play almost anything (within my ability) with the same dedication and joy that I had when I was younger. Many who experience disabilities never have their former strengths or full mobility return, so I know I am very fortunate.
My journey has taught me that life brings the unexpected –many things we like and those that we would never choose on our own. When trial or difficulty arises, it certainly detours us to experiences and growth (we hope) that in hindsight makes the story turn out better.
In Beethoven's The Tempest he repeats a theme, first in the lower/mid register then later towards the song's conclusion at a higher pitch. To me, even though technically it's only written in a different key, the second version is better. I like to think that it was prophetic by Beethoven, that after his great diversion because of deafness that he took hope in a future that was of music and the man made somehow better. It would be nice to think that Beethoven and his music –and other composer's melding of music, emotion and longing for their Creator– provides a bit of a roadmap for all who suffer setbacks and long to find a reigniting from within of life, joy and meaning.
-Gordon Bauer 9/15/19
Learn more…
I am open to sharing more about my story and I am eager to perform for additional audiences across the U.S.